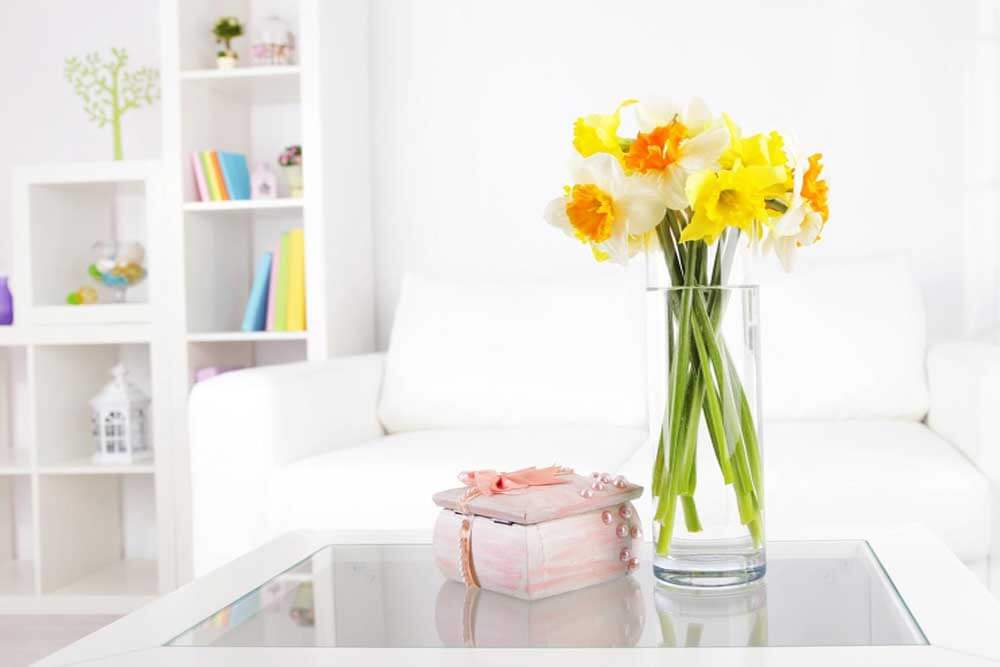 The weather is warming up and the days are starting to get longer, which means that spring is officially here! One of our favorite parts of the transitioning seasons is finding fun ways to decorate the house to welcome in springtime. Looking for some easy inspiration on how to freshen up your home and decorate for spring? Take a look at our top five favorite spring home decor ideas to jumpstart your creativity!
1. Bring in Fresh Flowers
One easy way to brighten up your home during the springtime is to bring in some fresh flowers. There's nothing like some bright blooms in a beautiful vase to bring some life into your home and get you excited for spring. Use them as the centerpiece on your dining room table, put a small arrangement in the guest bath, or set them on your bedside table for a beautiful, fresh piece of decor.
2. Intentional Decor
Another easy way to incorporate some spring decor into your home is to choose your decor items intentionally. Finding items in particular colors or designs is a surefire way to help the space feel a little lighter and brighter. Consider some of your favorite resources for home decor and look to see if they have a spring collection available. This will make it easy to find items that fit the season and that easily coordinate with each other.
3. Consider Color
The colors that you choose to incorporate into your home's decor plays a big part in the overall feel of a space. Take some time and consider which spring colors you would like to have in your home. Are you all about those pastel shades of pink? What about yellow? Or perhaps robin's egg blue would work best for you. Whatever spring colors you decide to tie in, make sure you choose some that are easy to pair with other items you already have on display.
4. Incorporate Spring Scents
There's nothing like some fresh scents to get your home in the springtime spirit! Whether you're all about that lemon verbena or you're wanting some fresh eucalyptus or lavender in your home, there are plenty of springtime scents that are the perfect thing to incorporate into your home. Find some candles in your favorite scents, or perhaps some hand soaps for the kitchen and bathrooms.
5. It's the Little Things
Remember that, at the end of the day, you don't have to have over-the-top displays or flashy items to achieve a springtime look in your home. It's the little things that can make the biggest difference, so consider what small items you can scatter around your home to make it a little brighter. A spring-themed dishcloth hanging in your kitchen or perhaps some throw pillows in spring colors is the perfect way to add some small details to make an impact.
So as springtime starts rolling in, take some to consider what you want to do in terms of home decor to welcome in this bright, happy season. Determining ahead of time what colors, designs, and overall look you want to go will make it that much easier and more enjoyable when the time comes to get your home ready for spring. Happy decorating!