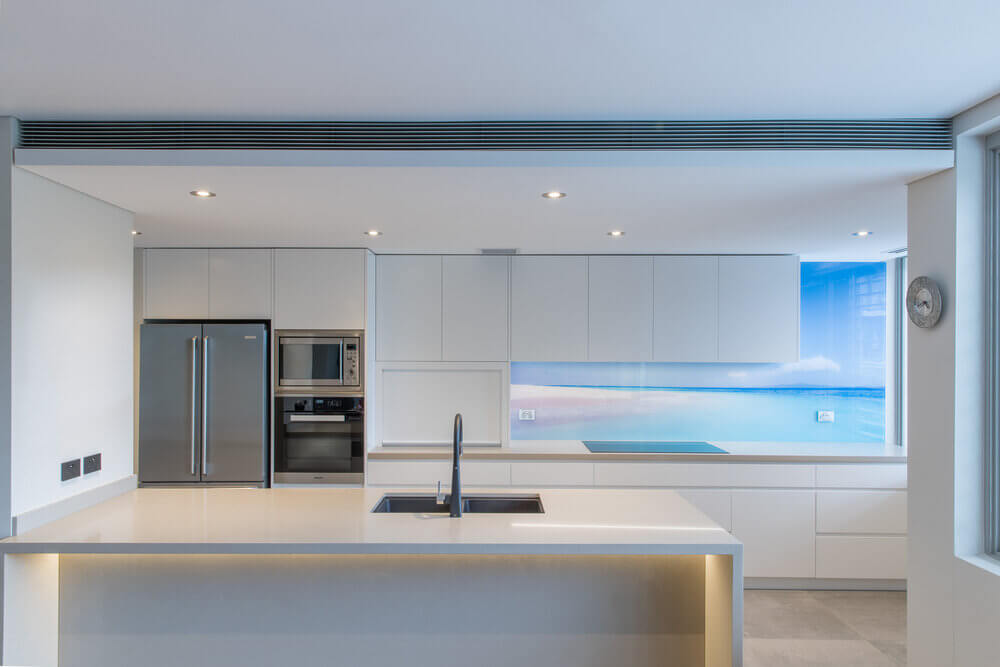 When it comes to glass kitchen splashbacks, there are numerous options available in the market. Choosing one from the many can sometimes seem mind-boggling. In the earlier days, kitchen splashbacks were only the common alternative of wall tiles and preventing the area from splashes and stains. In this 21st century, the demand for glass splashbacks as they add charm to your kitchen.
If the outdoors of your house is full of glass verandas, then look no further than glass splashbacks! These splashbacks are manufactured with high-quality toughened glass which makes them super durable, easy to clean, and heat-resistant.
Are you interested in buying glass splashbacks for your kitchen? So without further ado, let's jump in.
#1. Think About The Material
Here, splashbacks are available in multiple materials like pressed metal, tiles, glass, and high-quality steel. As we're talking about glass kitchen splashbacks, you'll only consider the toughened glass material. But, if your house builder suggests for selecting stainless steel or pressed metal, considering glass material will be your biggest mistake.
To make things easier, if the design and style of your kitchen are quite traditional, pressed metal and tiles are better options. The primary factor when it comes to choosing kitchen splashback is the maintenance. Whichever material you select, it should be easy to clean and maintain.
Mosaic tiles and glass are considered the best for modern houses and villas. They are super easy to clean but quite pricey. If you prefer maintenance above design, then glass and larger tiles are the best options.
#2. Selecting The Right Color
As you are interested in glass kitchen splashbacks, you might have narrowed multiple designs and styles. Now, here the colour and theme would be according to your bench top. Depending on the colour and material, you need to decide whether to keep the bench top in the sides or center.
If you are planning to install the bench top in the center, your kitchen should have enough space for accommodating cabinets and kitchen splashbacks. Yes, not aligning the bench top and splashbacks together will only ruin the looks of your kitchen.
Hence, now it's up to you how you'll select the colour of your kitchen splashback. It is highly recommended to take suggestions from your house builder and fellow friends.  The colour can also impact the overall look of your kitchen; hence, you must choose the best colour that will complement the look of your kitchen and will also make it look more spacious.
#3. Think About The Printing
Many people rely on creating the focal points for adding charm to their kitchens. Here, you have to select different coloured splashbacks and combine them with the regular splashback and see the wonders. Considering your desired digital print will add a unique touch to your kitchen and showcase your creativity to society.
What are your views on printing your personal photos and adding to the glass kitchen splashbacks? Yes, it also sounds better, or you can download premium images from the internet. If you don't have any picture in mind, then selecting the best prints can be overwhelming.
The best combination for glass kitchen splashbacks is the combo of saturated colours and your desired print; the results will be eye-catching and jaw-dropping. However, finding the right prints and images might be challenging, and you need to shell out some bucks and put efforts.
For making this challenging job easier, you can seek assistance from your photographer friend or any designing company.
Final Words
If you are struggling in selecting glass kitchen splashbacks, directly contact your home builder. There is no point in choosing the wrong splashback and regretting your decision later. We hope this article is helpful, and now you have a clear picture of your desired kitchen splashback.