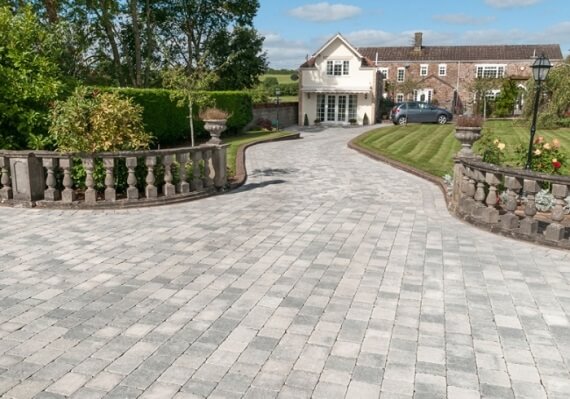 When it comes to home design, we tend to focus more on the interior than the exterior. Sprucing up the outside usually comes later, when we are done with all the interior décor. Even then, driveways often come after the backyard and landscaping. However, when carefully designed, driveways can be a great feature that will complement its surroundings and enhance the overall curb appeal.
Here are some tips on how to bring your driveway back to life.
Gravel driveway
If you're going for a rustic, old-fashioned look, gravel is a great solution for your driveway. It's relatively inexpensive and easy to install. One of the most recommended materials to use is pea shingle, which is a small, smooth, round stone, in brown or white. It's more environmentally friendly than asphalt or concrete, it fits great with any landscape and with the crunching sound that it makes under the tyres, it adds to the overall rustic vibe. Just bear in mind that this surface also requires a certain amount of maintenance and you'll need to rake it occasionally, so it doesn't scatter around.
Circular design
Circular driveways have always been very popular with homeowners for two simple reasons: firstly, they're very practical since they let you avoid going through the trouble of driving in reverse and turning your car around; and secondly, if designed well, they can act as a beautiful centrepiece art feature in front of your home. If you have an ample amount of space for a turning circle, the easiest way to improve your driveway is to make it circular.
From that point on, you can get as creative as you desire. The centre of the circle is an excellent place to create a flower oasis or install a water feature, and around it you can simplify the design by pouring concrete, or make it even more interesting by paving it with bricks and adding patterns to impress your visitors.
Concrete driveway
If you're looking for a surface with the lowest maintenance level, concrete is your best option. It's very easy to construct and it can be done in a short time frame. It will make your driveway look clean and neat, but on the other hand, it might also be quite bland and dull, design-wise. A long piece of concrete can be rather boring, so you should add some details to break it up and bring it back to life.
One solution is to pour concrete into squares during the construction and set blocks between concrete slabs. This will give it shape and form and also create an interesting pattern. You can make the edges stand out by outlining it with premium line marking paint in different colours. Instead of just one, draw two parallel lines in contrasting colours and you will not only increase your driveway's visibility, but you'll also add playfulness to its form.
Grass driveway
One of the best ways to improve the look of your driveway is using grass as a design element. By incorporating a strip of grass down the central part of the driveway, you'll create an attractive visual effect. It'll break up the single dull tone of a long concrete driveway and add some life and colour to it.
In addition, it will also save you money since it will reduce the amount of concrete needed. However, this design does mean you'll have to put in some extra maintenance work and mow the grass from spring till autumn, but the appeal it will add to your house will be well worth it.
As you can see, there are different things you can do to resuscitate your driveway. Following these pieces of advice will definitely facilitate your efforts.