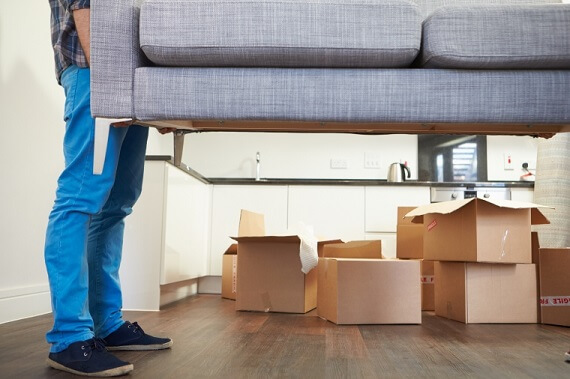 Under all circumstances, moving can be a chaotic and stressful ordeal. Doing it in the nick of time tends to be even worse, a real nightmare. Most people argue that the preparations should start at least several weeks in advance and they are absolutely right. However, that is not always feasible: last-minute moves are a common situation these days.
Time constraints make it almost impossible to do everything the way you would like. But, don't fret if you have no time to put together a list of essentials. Get your priorities straight and be resourceful. Here is what you should keep in mind and tackle to make a successful fly-by move happen.
Creating a game plan
Come up with a plan, the cornerstone of your speedy endeavor. Set goals for each day you can spare and make a list of the tools needed to get the job done. Being under pressure is not an excuse to let anything get in the way of your move. By taking some time to think things through, you ramp up your chances to relocate quickly and with ease.
Next, assess the amount of stuff you want to move. Note that you can take this chance to purge and declutter. So, be ruthless and get rid of anything that would just sit around collecting dust in the new home, or even better, donate it. The less stuff you have to move, the less time, energy, and money you will have to invest.
Try to find boxes you will need in order to pack everything. A quick trip to bars or liquor store could prove to be useful in terms of obtaining sturdy used boxes. Naturally, you should check out moving stores and office supply shops if you want to buy new boxes. Plastic bins are another common solution that many green movers employ.
A pro touch
Provided that your budget allows it, always rely on professionals. Find a moving company or a rental truck that you can hire. Hope that services are not all booked up, but brace yourself because the choice could be quite narrowed. Double-check whether the truck will be ready just in time. In case you are opting for a truck hire, make certain you possess an emergency kit containing all the necessary fluids for the vehicle as well as road supplies.
Furthermore, rest assured that packers can save you a whole lot of time and headaches. Pick-up companies are another valuable asset as they specialize in moving all the junk you don't need. Thus, do your research to find competitive rates. I would encourage you to find a company that offers the whole package. For instance, these removalists from Inner West  will not only transport your things, but also handle packing and supply adequate boxes for all your precious belongings.
Of course, you should also feel free to ask family members, friends, colleagues, and neighbors for help. Anyone prepared to jump in is welcome to do so. Just give clear instruction because you don't want helpers to do more harm than good.
Set the wheels into motion
It is finally time to pack everything, load stuff on the truck, and hit the road. Start by putting heavier boxes on the floor and stacking lighter ones on top of them. Keep a close eye on the breakables that should be separated from the rest. Label or color-code everything to make your life easier once you have to unpack. Designate a specific packing station or select a storage room. It is advisable to pack one room at a time and group similar items together.
Bear in mind that heavy stuff (such as washers, dryers, and furniture) typically goes in the section towards the front of the moving truck. Things that need to be unloaded first must be put last. Large appliances often call for special preparation, while carpet scraps and rags can minimize sliding that could lead to costly damage or injuries.
Finally, don't forget to move your life. File a change of address and update your credit card account accordingly. Shut off utilities in the old place and see if those in the new home can be turned on the day before. Pay your bills and transfer gym membership. Remember to pack the essentials for a few days separately, so that they are at hand.
Time to make a smart move
So, you have to move all your possessions and settle in a new place as soon as possible. This is not an ideal situation because working against the clock can easily put you on your wit's end and blow your budget. However, there are ways to take stress and frustration out of the process and make a smooth and swift transition to your new home.
Therefore, if you want to be in the driver's seat during the whole the process, sort and pack your household things. Enlist the support of anyone willing to give a helping hand and hire professionals as needed. Tool up on boxes and other moving supplies. Lack of time must never make you succumb to chaos and panic.