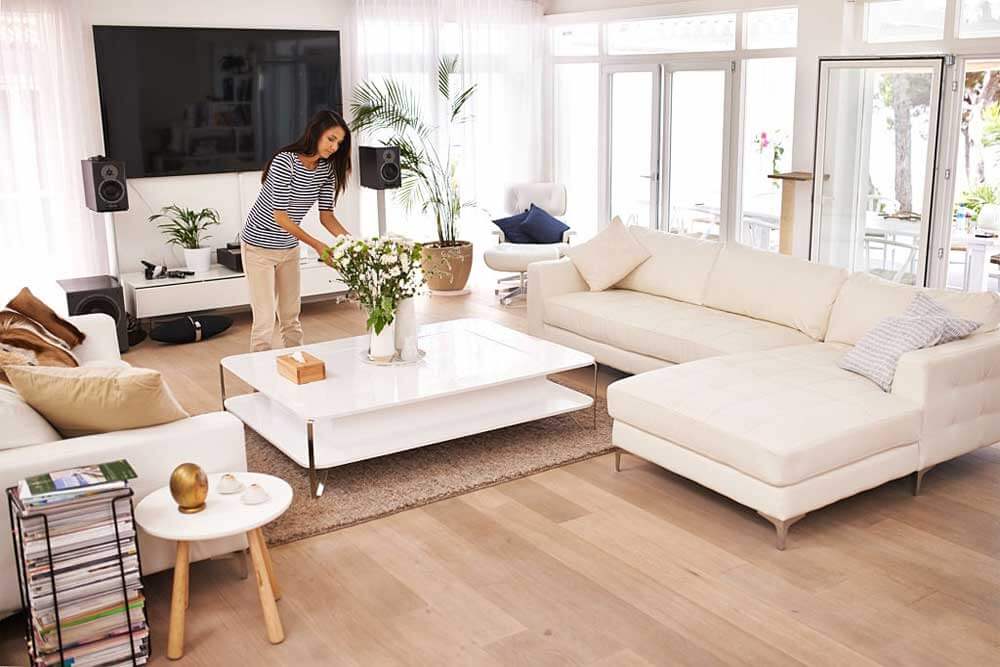 Every woman has different taste, sense of style and vision. A woman's living room is definitely chic and trendy. It could be a modern living room with contemporary furniture and upholstery. It can also be a traditional and cozy room with lots of ruffles, plush rugs and pastel hues. It could definitely be a fusion of both. No matter what her style quotient is, the living room of a woman can never lack aesthetic appeal. 
Here a few components of a modern living room of a woman.
Modern furniture does not necessarily have to mean metallic furniture or too bold design. The style can be a bit transitional. Go for modern upholstery like micro fiber or faux leather. Have a theme decided for your room.

If you like your pinks and reds, then you can go for metallic pink sofas or a big red leather L-shaped sofa. The furniture should make a statement. Make sure the fabric of the sofa is not too dull and dark. If you like prints then make sure they are large. The prints should gel with the theme of the room.

Even the walls of your living room can speak volumes when it comes to modern designing. Either get your walls painted white or if you like a classic blue-grey, even that look great. In case you like wallpapers, then go for chic wallpapers with large prints. This will give a real classic and modern look for your living room. 

If you are an avid reader, get a classy bookshelf for yourself. Go for a shelf that is light-weight, contemporary and built with a modern finish. Try mounting it on the wall, instead of placing in the room, you will get ample space to creatively design your room. Make sure the color of the shelf compliments the color of the walls and the theme of the room.

Creatively design your room by artistically dividing the space according to requirement. If your living room, has a TV unit, a study area and a reading corner try to aesthetically divide and style your room. You can have your essential woodwork around the study area. Place the table and chair around the area with the most natural light. Have light curtains in that area. In your reading area, you can either place a really comfortable couch with a tall metallic lamp. You can design the area by placing rugs with a lot of big cushions, so that it gives a cozy, modern and minimalistic look.  The key is lighting here. 

Your living room can also have a beautiful seating area.  Get yourself a

modern style tufted sofa

with a stunning center table. It can have a classic structure. Do not forget to get ottomans for your living room, they give a really aesthetic appeal to the area. You can place tall vases on the table with fresh flowers to give a classic look to the room. 

Indoor plants and fresh flowers are never out of fashion. Make sure you place them at one corner. Or you can two pots at either ends of a wall.  You can also place a bonsai plant on a coffee table or the center table. 

To give a modern look to the room, you can even add artwork pieces to the wall. You can hang one big piece of art on the wall that compliments your room. For a more classic, vintage look, you can even hang posters of iconic, classic movies or plays of all times. 

Multi-purpose furniture definitely fits in modern décor. Having a sofa that can be used as a recliner or a lounge. If it has a storage compartment or can be transformed into a bed altogether, can be a game changer for the modern outlook for your living room. 
Planning a modern outlook for your room does not have to be very hard. However, modernity is simply evolution of traditions. It is okay to keep the entire look of the living room a bit transitional. 
Naresh Prashar is marketing manager of E-Living Furniture, a leading online portal for affordable and elegant furniture for all types. Now a busy businessman, he loves to travel around the world and write on related topics whenever finds some time from his busy schedule.