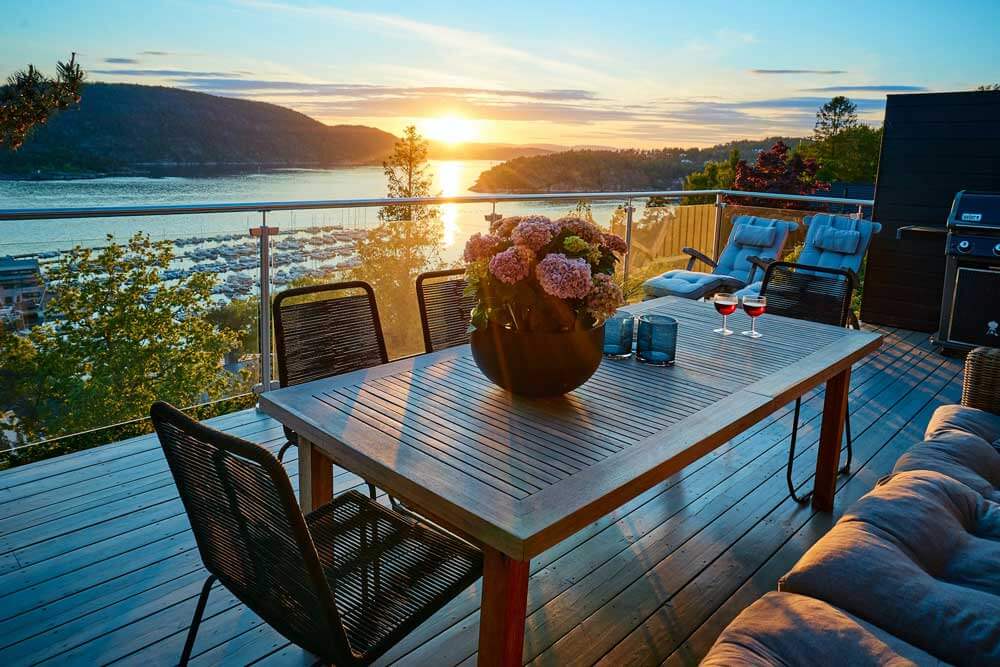 If you live in a city apartment, it is common to dream of having your outdoor space, like a balcony. That's because this is where you can take a breather and unwind.
Mind you; a balcony is something that many homeowners dream of having. And no matter how small it is, your patio has a lot of design potential.
And if you are looking for ideas and inspiration to beautify your balcony, you are in the right place! Listed below are 12 affordable ways you can spruce up your balcony:
Add Some Railing Planters
Even with just a couple of planted plants, the bare railings found on your balcony can offer a beautiful balcony garden design.
So, why not place as many or as few planters as you want? After all, you can mix and match different plants that are easy to tend to.
Live plants can serve as a refreshing decor for your outdoor space. It doesn't matter if you only have a couple of plants on your balcony or if you have a lot of them that make your area look like a tropical rainforest.
Also, you can never have enough plants on your balcony!
If you're not sold out to the idea of store-bought metal and clay planters, then you can make your own using metal hooks and wooden crates.
Lay Out a Coffee Table
Placing a coffee table is the only essential requirement if you want to enjoy your tea or coffee on your balcony in the mornings. So, look for an attractive coffee table and chair.
Sometimes, adding comfortable seating is all your balcony needs. You can pick one that folds up easily. That way, you can store it if needed.
Change the Flooring
The tiles of your balcony will wear out much quicker. That's because it's constantly exposed to harsh weather conditions like snow, rain, sun, humidity, and air pollution.
As time goes by, a permanent layer of dirt will form over the outdoor floor tile, making it challenging to be scrubbed. At Maid Sailors Maid Service NYC, we always tell our clients that it would be best to have the balcony floor cleaned regularly. Doing so can help you create a much more appealing space.
One of the best ways to revamp your balcony is to change its flooring.
Choosing a WPC deck flooring is an excellent option for balconies. That's because they're weather-resistant and a lot easier to replace.
Install a Swing or Hammock
You can add swing benches just like with porches. So, if your balcony has an overhang, you can secure a swing there.
That way, you can relax and take in the views from your balcony. Don't forget to add throw pillows for extra comfort, too!
So, install a swing or hammock on your balcony to create that vacation-like vibe.
Similarly, hammocks are also perfect if you want to take an afternoon nap or siesta. Or simply if you wanted to place your feet up and relax after a tiring day at work.
Merge Open and Closed Balconies
If you own the apartment or house, you can decorate your balcony to your heart's content.
For instance, you can make a space that integrates both open and closed spaces.
Usually, this often serves as a multi-functional space that can be utilized when you want to enjoy the warm sun, even during winter. Meanwhile, throwing the doors open during summer can make it look like an extended balcony.
Create a Complementing Design
Not every balcony will have the exact conventional sizes and dimensions.
There will be instances that regular balcony furniture will not fit your balcony. In times like this, you will need customized pieces. An excellent example would be a wall-mounted corner complete with bar chairs.
You might also want to pick a sofa with a smaller width to provide comfort even in a smaller space.
So, try to think about proportion. In smaller spaces, having the right amount of proportion is vital. In a nutshell, proportion refers to the size between two objects.
You want to ensure that the furniture that you choose has the right size for your balcony. For example, thinner furniture often works best if you're short on square footage for your patio.
Chances are, even irregular or a narrow-sized balcony won't ruin your chances of enjoying the beauty of the outdoors. All it takes is to have a practical design to make your space more attractive.
Light it Up
Fill your balcony with stunning lights. It can be paper lanterns, Christmas lights, small lanterns, or small glass chandeliers.
Placing some string of lights on your balcony can do wonders on how your space will look like.
At the end of the day, lighting is crucial in making this space homey.
Consider Hanging Outdoor Planters
Consider adding metal hooks in your balcony or above the railing, and add hanging planters there.
Adding more plants, greener, and color will make your sanctuary look much more beautiful as it gives it a more contemporary design.
There are many hanging outdoor planters to choose from. You can also for faux plants if you cannot trust yourself in taking care of a plant.
Add a Splash of Colors
You may opt for quirky decor items to add to your signature style to liven up your space.
Consider adding a small rug there, a watering can, or a couple of plush cushions for the reading sofa.
You can also color-coordinate these items or even let yourself lose by choosing everything with different colors.
The result? A relaxing space and retreat that screams you.
Add a Bunch of DIY Projects
Are you a big fan of DIY projects? Usually, the balcony is an excellent place to start experimenting.
You can start with a recycled flower pot or a simple table. Make your balcony the ideal space to practice your creativity while adding beauty to the overall feel.
Give Space for Some Privacy
If you have a balcony that's right up your neighbor's, then you might want to consider adding tall plants such as bamboo to create some form of natural wall.
You might also consider throwing in some bamboo shades that can be raised or lowered down if needed.
Add Some Shade
Enjoy your balcony no matter the weather by using a rectangular awning to protect you, rain or shine.
Opt for either a classic stripe or choose bold colors to make your balcony stand out.
There are a plethora of ways to spruce up your balcony, no matter what size or shape it is. With the tips listed above in mind, we hope you can be confident enough to decorate this little space that can provide you tranquility.