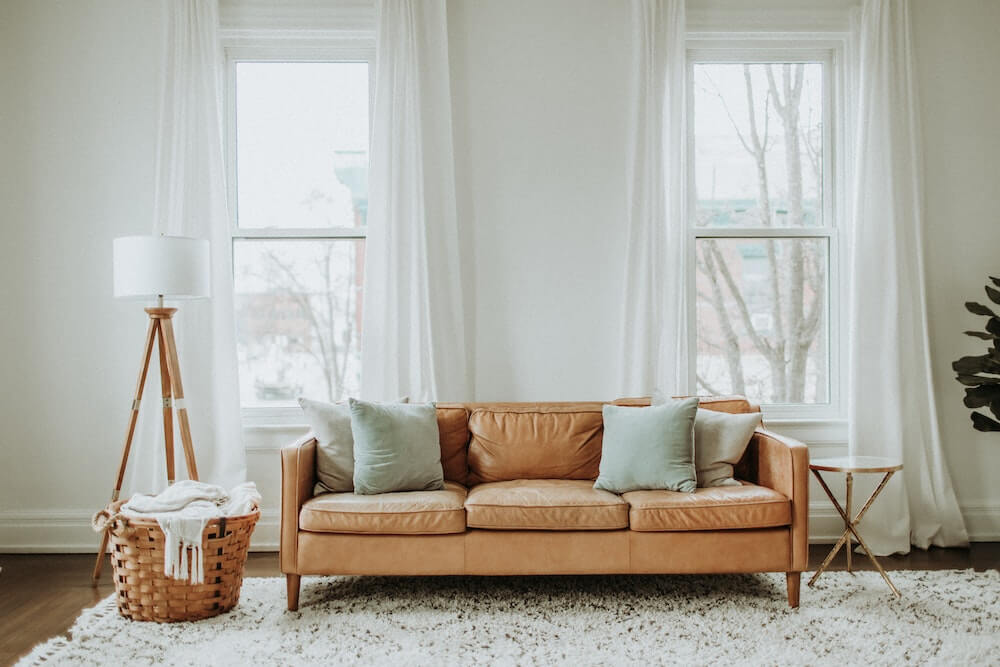 Give your home the upgrade it deserves. An area rug is just the thing to transform a room from blah to beautiful. A rug instantly infuses a room with color and design, however, color is not the only factor to consider. Size, material, and more could determine which rug would most optimize the room you're decorating. Find out what factors to consider before launching your search.
Size
Finding the right size is a crucial step. This will make or break the overall look of the room. Having a rug that is too big or too small will make the room feel disjointed or just weird. Really, most people make the error of going too small. Rugs should be big enough to encompass the room's furniture or at least sit under furniture legs. This ties everything together and makes the room appear anchored instead of aimless. Measuring beforehand is the key to making your rug a success. Floorspace borders will be important as you'll want at least 1 foot of space between the rug and the walls for a clean look.
Texture
How a rug feels is relevant if you'll be walking on it barefoot. For example, if you're decorating a bedroom it's likely you'd appreciate a soft surface to step onto in the morning. A fluffy rug is effective in creating a cozy, comfortable room. Texture also has a visual component. If you're working with a monochromatic living room, adding in various textures is a clever way to add depth to the space. Layering area rugs with different textures is another trick to add visual interest. Also, certain textures could be a better match to the room's overall style. For example, a plant-based material like jute has a distinctive texture that could work for a room with an organic aesthetic.
Material
That brings us to rug materials. There's a myriad of possibilities that include natural fibers, synthetic fibers, and plant-based materials. The "best" one depends on the room and what your goals are. It's essential to explore a material's pros, cons, and general characteristics to inform your decision.
Natural fibers such as wool, cotton, and silk tend to be more expensive. However, they're also high in quality. Silk will certainly add luxury to a room, and wool is a premium choice with its resiliency and softness. Plant fibers such as seagrass and sisal are less plush, but they're strong and create durable rugs. They have their own charming aesthetic that works well with many room styles. There's a range of man-made fibers too, like nylon and polyester. Polypropylene is a go-to when the situation calls for high durability, such as a room with high foot traffic. Synthetic materials tend to be more affordable, easy to clean, and stain resistant.
Pile Height
Pile height is how tall the rug fibers stand. An example of a high pile would be a shag rug, while a flat woven rug has a low pile and would have a flatter appearance. Why does this matter? When it comes to style, think about what you want the rug to communicate. A rug with a higher pile cues a lush and cozy room. Functionally, a low-pile rug would be preferred in a room with moving furniture. For example, a kitchen or outdoor dining area where chairs are being pulled in and out of tables. A low-pile rug will allow chairs to move smoothly rather than catching.
Color
Since the floor acts as a "fifth wall" to a room, a rug's color is on a similar level to picking a paint color. A bold color or pattern is a terrific way to spark up a lackluster room. In a room where there are multiple colors, a multi-colored rug is a great opportunity to tie everything together. If you already have a colorful room, a neutral color would be an elegant choice while still providing the room with texture and depth. Starting from square one in your decorating? A rug can help jump start your color scheme. Don't count out patterns, as they are great in adding personality to a room.
With color, you can also be a master of illusion. A light-colored rug will have a brightening effect and will also make the room seem larger. Darker colors will make the room appear more intimate and cozy. Don't forget you want a color that makes you feel happy and comfortable.
Pet Parent?
We love our furry friends, but they can do a number on our furnishings. Low-pile rugs are popular with pet owners because they're easier to clean and don't trap in the dirt and debris that paws can bring in. Synthetic materials like nylon tend to be more durable to make up for the extra wear and vacuuming. If you like the idea of machine-washable rugs, cotton may be a game-changer for you.
The Room
Where will the rug live? A rug can serve different purposes depending on the room. For the bedroom, a soft rug is nice to have where you'll be barefoot most of the time. In rooms like the kitchen, a rug that's easy to clean is a top priority. In outdoor spaces, you'll want to look for fade-resistant and water-resistant rugs. Areas with high foot traffic, like hallway runners, require durability. In bathrooms, you'll want to look for rugs that can stand up to humidity. For a living room, the rug's style is important. However, you may want something soft if you have rugrats who'll be playing in the area.
Style
To fully enjoy your rug, make sure it matches your personal style. Consider what type of rug will complement the room's decor. If you want to amp bohemian vibes, try a shag rug or kilim. Plant-based rug materials like jute fit in well with casual and modern styles. If your taste leans toward traditional, you can't go wrong with a classic wool rug. If you find it challenging defining your style, collect pictures to get inspiration and identify common themes.
Before buying an area rug, consider these factors based on your personal priorities. A helpful plan of action is to think about your style goals and what functions you'd like your rug to achieve. This will ensure a successful room and a rug you'll enjoy for years to come.