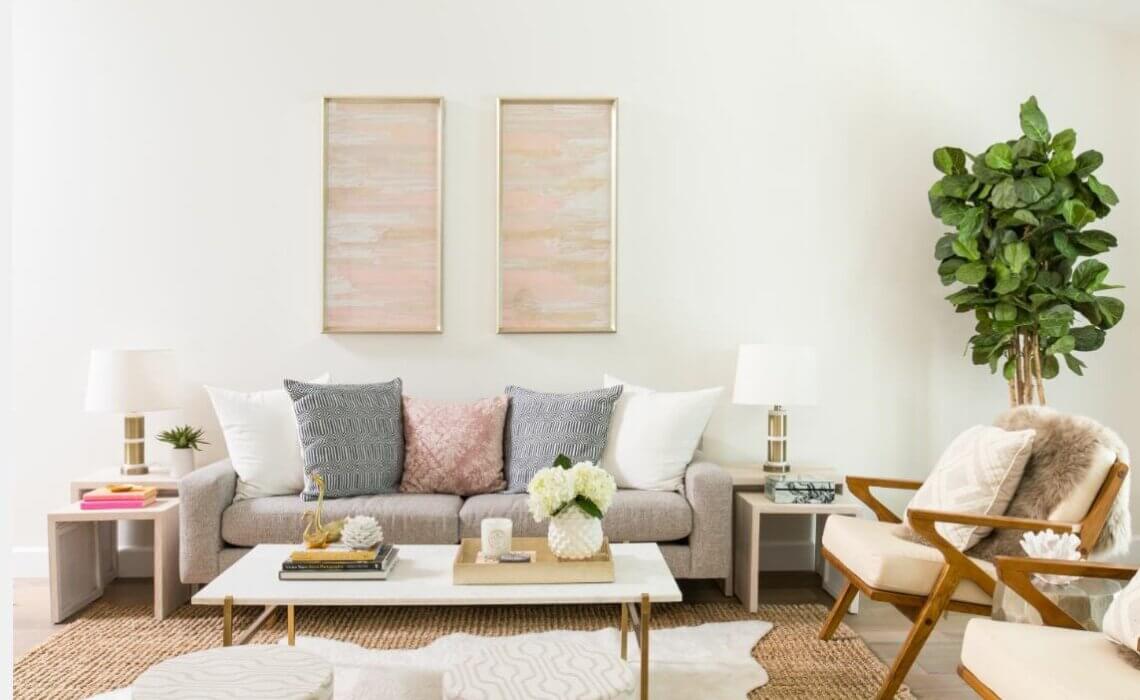 Summer's here, which means it's time for a fresh change. It's time to infuse your living space with the vibrant and refreshing spirit of the season. Decorating your home for the summer not only creates a cheerful ambiance but also allows you to embrace the warmth and beauty of this time of year. And guess what? It's not that expensive to give your home a whole new look for the season! Here are a few simple ways you can spruce up your home this summer on a budget.
1. Bring the outdoors inside
One of the easiest ways to add a touch of summer to your home is by incorporating natural elements. Display freshly picked flowers, lush green plants, and colorful fruits in bowls or baskets to create a lively atmosphere. These elements not only add visual appeal but also make your home smell much better.
Create a multisensory experience by introducing summery scents into your home. You can bring in natural products, or even opt for candles, diffusers, or essential oils with refreshing fragrances like citrus, tropical fruits, or floral bouquets. Not only will they enhance the atmosphere, but they will also evoke pleasant memories and make your space feel all the more blissful and summery.
Also, If you're unable to visit the beach, bring the beach to your home! Incorporate coastal elements such as seashells, driftwood, or woven baskets into your decor. Display these treasures in glass jars, arrange them on shelves, or create a captivating centerpiece. You can also hang up framed beach photographs or artwork to transport yourself to a seaside getaway.
2. Add pastels to your decor
Swap out yoyr heavy winter drapes and blankets for light and breezy fabrics. Opt for sheer, pastel curtains that allow sunlight to filter through, creating a soft and dreamy ambiance. Replace dark-colored cushion covers with pastel shades or floral prints to evoke a sense of summer charm.
You can also add a splash of summer playfulness to your sofas, chairs, and beds with colorful throw pillows and cushions. Choose patterns like stripes, polka dots, or tropical prints to infuse a sense of joy and energy. Mix and match different sizes, shapes, and textures to create a dynamic and inviting space for relaxation and socializing.
3. Create and print out summer-themed motivational posters
Motivational posters are a fantastic way to uplift your spirits and inspire positive energy. Channel the essence of summer by designing and printing out your own summer-themed motivational posters on sites like PosterMyWall. Choose vibrant colors, incorporate uplifting quotes, and feature iconic summer elements in your summer-themed inspirational posters such as seashells, sunsets, or palm trees. Hang them in your living room or home office to surround yourself with encouragement and optimism while working, resting, or just taking a break.
4. Create a fun, summery outdoor space
Summer is a great time to get some much needed sunlight, so why not extend your summer decor to your outdoor space too? Spruce up your patio or balcony with vibrant cushions, lanterns, and potted plants. Set up cozy seating areas, hang string lights, and create a relaxed atmosphere for outdoor gatherings. Consider adding a touch of whimsy with a colorful outdoor rug or a hammock for lazy summer afternoons.
Final thoughts
As the temperature rises and summer gets closer, infusing your home with summer vibes can be the perfect way to celebrate the season. By incorporating natural elements, cheerful colors, and summer-themed decor, you can create a space that embraces the joy, energy, and relaxation that summer brings. So, get creative, experiment with these ideas, and transform your home into a delightful summer sanctuary. Embrace the warmth, and let the summer spirit shine through your home!