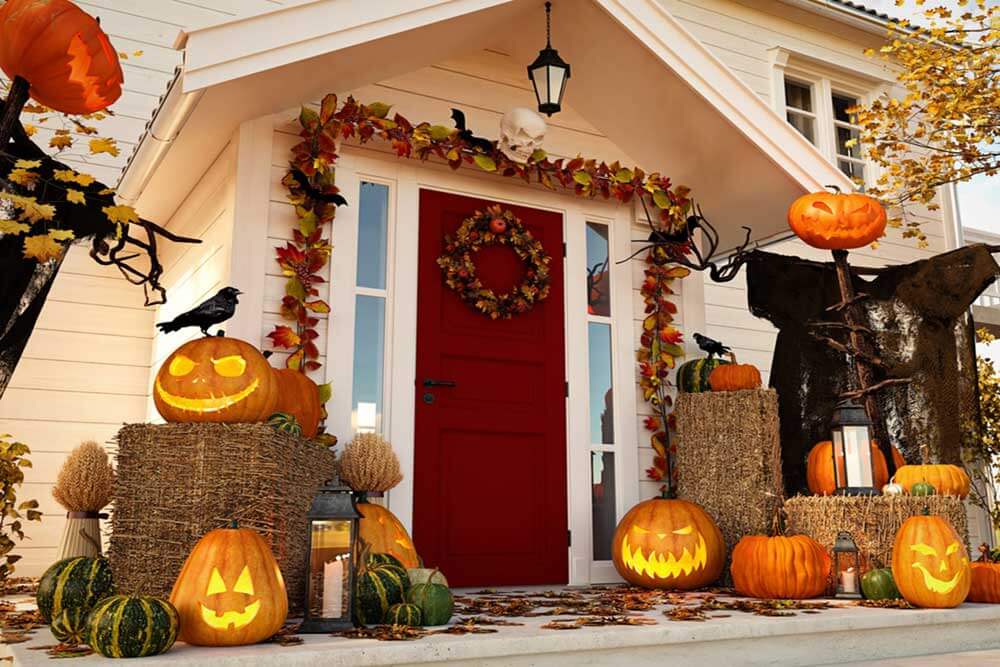 Halloween is for costumes, parties and pumpkin carving. It's also a great time to decorate your home! These 10 adorable and creative Halloween decorations will make your house festive for the fall season.
1. Ghostly Mason Jars
Ghostly mason jars are a simple and easy way to add Halloween cheer to your home. To make them, clean out some mason jars and paint them white. Then, use a black Sharpie to draw spooky faces on the front. To give the ghosts a little extra pizzazz, add some glitter around the rim of the jar. These simple Halloween decorations will surely add fun and festivity to your celebrations.
2. Wreath of Witch Hats
A wreath made from witches' hats makes for a very eye-catching display. To create the wreath, hot glue the hats together in a circular pattern. You can add a few other simple embellishments, such as spiders or bats, to add a touch of Halloween fun to your home.
3. Spiderweb Window Clings
To spruce up your windows for Halloween, try spiderweb window clings! These easy-to-use decorations are a quick and inexpensive way to add a touch of Halloween spirit to any room. After peeling off the backing, stick them to your windows in any design you like. You can even create fun patterns by overlapping the clings. Best of all, when you're ready to take them down, they peel off easily without leaving any residue.
4. Mummy Door Hanger
To create this ghoulish decoration, you only need a white pillowcase, scissors and some black electrical tape. Cut two eyeholes in the pillowcase. Then, starting at the top of the pillowcase, wrap it around a doorknob and secure it with electrical tape.
Continue wrapping until the entire pillowcase is covering the doorknob, leaving just the eyeholes exposed. For an extra touch of creepiness, add a few strips of tape "stitches" around the edges of the pillowcase. Your guests will surely get a fright when they see this spooky yet simple Halloween decoration greeting them at your door.
5. Boo Banner
The boo banner consists of a length of black fabric with white letters spelling out the word "BOO." The banner can be hung from a porch, window or doorframe, instantly adding a touch of Halloween flair to your home, whether you live in historic downtown Charleston, SC or the suburbs.
6. Spooky Silhouettes
Spooky silhouettes are a simple and effective way to add some Halloween fright to your home. Cut out shapes of ghosts, bats and witches from black construction paper and tape them to your windows. When the lights are on, your home will be filled with eerie shadows.
Use a projector or turn your smartphone into a projector to create moving images on your walls. Just choose a spooky scene from a movie or TV show, point the projector at your wall, and watch as your guests shriek in delight.
7. Friendly Frankenstein
Frankenstein is one of the most iconic Halloween creatures. But what if he wasn't so frightening but rather friendly and inviting? This Halloween, decorate your yard with a friendly Frankenstein! To make your own, start with a simple wood frame. Then, cover the frame with green felt or fabric. Cut two large circles from white felt or fabric and glue them onto the green fabric for the eyes. Add a black button or bead in the center of each circle for the pupil.
Cut a curved shape out of black felt or fabric for the mouth and glue it onto the green fabric. Finally, add some stitches around the mouth with black string or yarn. Now you have your own friendly Frankenstein to greet trick-or-treaters this Halloween!
8. Spooky Scarecrows
There's something about a scarecrow that screams Halloween, and they can be made from just about anything. Get an old shirt, pants, straw (or other filling) and some rubber bands. Just stuff the clothing with straw, tie it off with the rubber bands and voila! You've got yourself a homemade scarecrow.
9. Ghostly Centerpieces
For a simple yet creative way to decorate your table for Halloween, try making ghostly centerpieces out of white balloons and gauze. After blowing up the balloons, tie them off. Next, cut several strips of gauze, and tie them around the balloon, making sure to leave some extra gauze at the top for the ghost's head. Finally, use a black Sharpie to draw spooky eyes on the ghosts.
10. Vegetables With Eyes
Kids and grownups alike will get a kick out of these simple Halloween decorations. All you need is a pack of stick-on googly eyes, which you can find at any craft store and an assortment of vegetables. This can make great use of the bumper crop from your garden! Just make a display of vegetables on a table and place a pair of googly eyes on each item. Watch as cauliflower, squash, and broccoli come to life with goofy eyes that will take your guests by surprise.
Final Thoughts
These ideas will inspire you if you're looking for a few last-minute decorations or want to start planning your holiday decorating strategy. Maybe you are dreaming of a new home to decorate and wondering "Is Charleston, SC a good place to live?" Finding the perfect home in any area and decorating it for any holiday, including Halloween, can be fun and bring your family together!