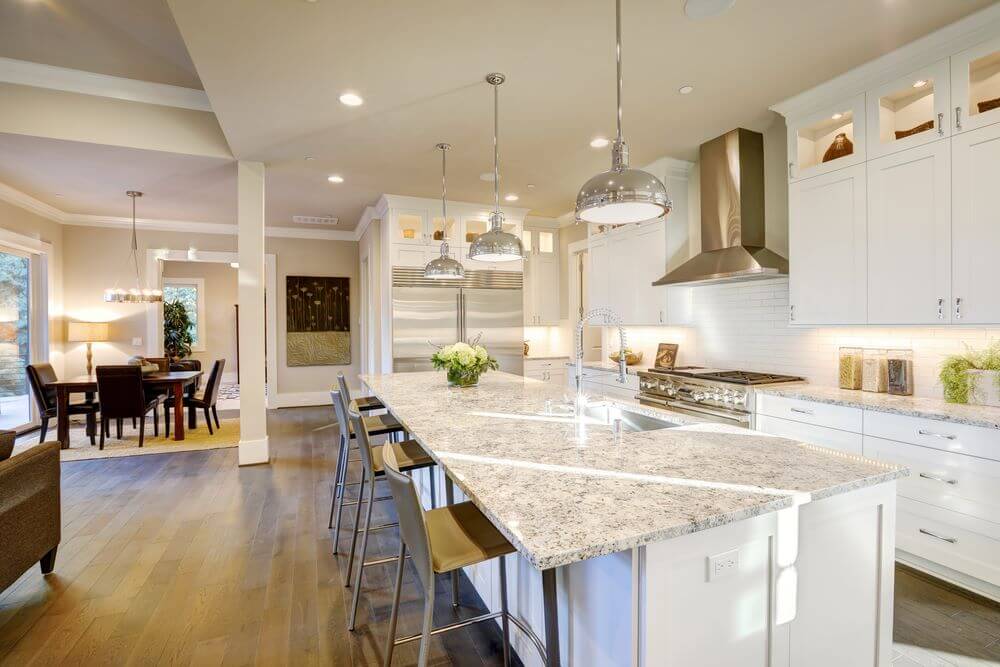 Renovating kitchen is an interesting task as it involves playing with the colors as well as the materials. Your kitchen does not have to be a boring place as you spend most of your time in the kitchen. You can make the cooking and cleaning tasks enjoyable if you install a TV or a sound system in the kitchen. That is not all, you can also host guests in the kitchen while you prepare food for them. However, you will need a neat-looking ambience in the kitchen first.
You can get your cabinets painted, get wallpapers for the wall, change the countertops and add some decorative items. The kitchen countertops available in the market are of various types and you should research before you install the kitchen countertops. Each type has its own pros and cons. Professional Granite Installation in Pinellas Park FL is available on call after you have made up your mind regarding the type of countertops. Here is a summary of various materials used in the countertops.
Granite: Pros and Cons
Granite is one of the commonly used materials in kitchen countertops. It adds elegance and modesty to the kitchen. Granite used to be an expensive material; however, the cost has been reduced now. The pros include heat resistance, durability, strength, variety of colors and patterns, low maintenance.
However, the cons include difficult installation process, imperfect slabs. These countertops can easily be cracked if too much stress or pressure is applied. Knives can leave cut marks on the granite.
Stone: Pros and Cons
The stone used in countertops is soapstone. It is usually dark fray in color and has a silky, smooth feel to the skin. Mostly people use soapstone as an alternate to granite. The stone is stain-resistant and very hard. However, regular usage can cause scratches t the surface. The pros include resistance to heat and stains, antique look, deep color.
However, these stones can darken with the passage of time. You cannot install such countertops on your own and you will need professional help.
Marble: Pros and Cons
Apart from soapstone, marble is another commonly used natural stone for kitchen countertops. Since marble pattern varies, your countertop sheets will be entirely unique and will not match any other kitchen. Marble is an expensive material. Therefore, very few homeowners use this in their kitchen. Moreover, it can easily get stains and scratches. The marble has unique advantages. It is heatproof and waterproof, it adds to the real estate value of your house and its unique veins add to the beauty of your kitchen. However, it is expensive, you need professional help for installation of marble countertops.
Quartz
Kitchen Countertops Installation in Pinellas Park FL can also fix your issue with an engineered countertop. The professionals use a material called Quartz which is an engineered stone. The countertop is made using multiple minerals and quartz particles. It is available in a wide range of colors and it performs better than marble and granite.